Unlike the walls and floor of your bathroom, our self-serve Dog Wash can cope with the spray of a good, strong, wet-dog shake
We like a dirty doggy, it's because we know you'll find everything you need to get them squeaky clean again, right in our D.I.Y Dog Wash bays.
Easy access, safe doggy tie ups and an elevated tub makes bath time a little more comfortable for you and your buddy. It is recommended that all dogs (even those with short hair) receive a bath every four weeks, so lucky there's no appointment necessary for our Dog Wash and it's good clean family fun at only $10 for 10 minutes.
Additionally, we provide you with shampoo, conditioner, flea wash and a hair dryer. It doesn't get much more convenient than that!
How does it work?
Wash Instructions
Pay at the counter to begin wash cycle
Secure your Dog in the wash tub
Make selection using the dial control
Press button on top of gun to commence wash
Rinse tub and clean when finished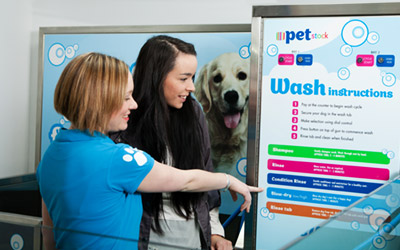 | STAGE | DESCRIPTION |
| --- | --- |
| Shampoo | Gently shampoo wash. Work through by hand. APPROX TIME 2-4 MINUTES |
| Rinse | Rinse water. Use as required APPROX TIME 1-2 MINUTES |
| Condition Rinse | Gentle conditioner and moisturiser for a healthy coat. APPROX TIME 1-2 MINUTES |
| Blow-dry | Blow dry dog's coat (for a happy dog). APPROX TIME 1 MINUTE |
| Rinse Tub | Remove dog from tub. Rinse out tub with wash gun. APPROX TIME 1 MINUTE |
Don't want to do it yourself? Let us do it for you!
Our expert groomers are always taking appointments. Click here to find your local PETstock grooming salon.