No need to make an appointment. Simply scoop some water from your aquarium into a clean, air tight container and bring in store.
Fish make fantastic pets as they are relatively low cost and come in a variety of different breeds. Setting up an aquarium is not complicated, but there are important steps that must be followed to ensure your aquarium environment is successful. Performing a water test is one of these important steps to ensure all water parameters are at a safe level for your fish to thrive.
PETstock's fish gurus are here to help! Our FREE aquarium water testing we will test for:
PH – measure of acidity or alkalinity of the water.
Ammonia – main waste product from fish or uneaten food that builds up in an aquarium.
Nitrate – a toxic by-product that consumes ammonia in a fish tank.
General Hardness – measure of dissolved magnesium and calcium in the water. Incorrect levels affect the ability to maintain correct water and salt balance.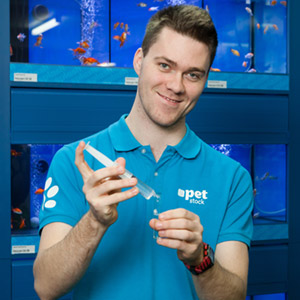 Regular checks are essential to the health of your aquarium and allow you to catch problems early and save your fish from any suffering. We have a wide range of water treatment products available to help your fishy friends, visit us in store with your water sample!
New Fish Guarantee
At PETstock, we're confident that the fish leaving our store are happy and healthy. However in the unlikely event that your live fish experience is less than desired, or you experience a problem, we will guarantee your new fish for seven days from purchase if the environment that the fish has been placed into is suitable and appropriate. All we ask is that you contact your local PETstock store where you purchased your fish from and bring in a sample of your aquarium water in a clean container (at least 150ml), to ensure the environment is suitable and safe. Please also bring in your receipt for proof of purchase or have your PETstock Rewards membership details handy so we can review your purchase history.
Once we have tested your water, we will provide you with details of the result and help to identify any areas of concern to ensure your new friend is happy and healthy.
T&C's apply.