For your convenience, you are able to update your card details through your PETstock account.
The good news is that adding or deleting a card is very easy!
Simply log in and click on the downward arrow next to your name (this can be found near the top of the webpage next to the 'Find a store' icon);

From the drop-down menu please select Credit Cards.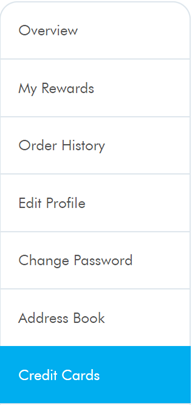 You will then be directed to the 'Manage Credit Cards' page and here you can add or remove your credit card details for your online PETstock purchases.
If you need any assistance or have any questions please contact our friendly customer care team who are available Monday through to Sunday from 8am to 8pm (excluding public holidays).